"If your dog thinks you are the best cook in the world never seek a second opinion !!"
Meat glorious Meat
For the best meat in town used by Sonja herself in the dogs diets please contact: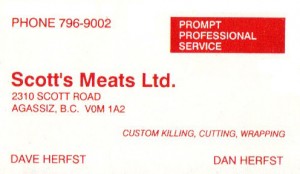 Announcements:
Puppies Available! Please call Sonja at 604-814-0038 for more information. More pictures on our Facebook page (11.06.16)
Pups still available for adoption! Please call Sonja to discuss which pups are available and how you can place a hold on one for your family 🙂 (06.27.16)
Welcome to the newest members of the Shar Peis By Sonja family!
Dogs up for adoption:
Sometimes due to unforeseen circumstances, a few of our Shar Pei friends may be looking for new homes. If you would be interested in giving these unfortunate family members a place in your hearts and homes, their information will be on our Facebook page or you can email us at sonjassharpeiss@gmail.com for their owners contact info.
You can now follow us on Twitter!! @SharPeisBySonja
Speaking of pictures, we LOVE to get pictures of the puppies/dogs in their new homes to add to our Family Gallery page. Email your pictures to: sonjassharpeiss@gmail.com
THANK YOU!! To all the wonderful families who have given our four-legged children a place in their homes and in their hearts.

Please check back for our latest news and announcements!
Recent Comments